Read it in one article | INVT VCA Series Inverter Small IT Room Cooling Solution
With the development of the data center industry, the energy consumption of data computer rooms has also increased significantly. The energy consumption of air conditioning and refrigeration systems accounts for more than 40% of the total energy consumption of data center computer rooms, making it a key focus of data center energy conservation. In order to achieve the national "double carbon" goal, green data centers have become a consensus among data center builders and users. As a mature application technology that directly and effectively reduces air conditioning energy consumption, variable frequency computer room air conditioners have become a mainstream product for data center temperature control.
The VCA Series Inverter Small IT Room Cooling solution is a dedicated precision air conditioner that provides internal environment temperature, humidity, and cleanliness control for scenarios such as small and medium computer rooms, power distribution rooms, battery rooms, communication base stations, etc. The unit is equipped as standard with a DC variable frequency compressor, EC backward-tilting centrifugal fan, and electronic expansion valve. It has the characteristics of high efficiency, energy saving, and uninterrupted stable operation 365×24 hours.
The cooling capacity of the VCA Series Inverter Small IT Room Cooling solution ranges from 5.5 to 32kW. The air supply mode is divided into top-front air supply and bottom air supply, and the airflow organization is flexible. Depending on whether it is equipped with low-temperature components, it is divided into normal-temperature outdoor units and low-temperature outdoor units. Flexible selection of multiple configurations to meet different customer needs.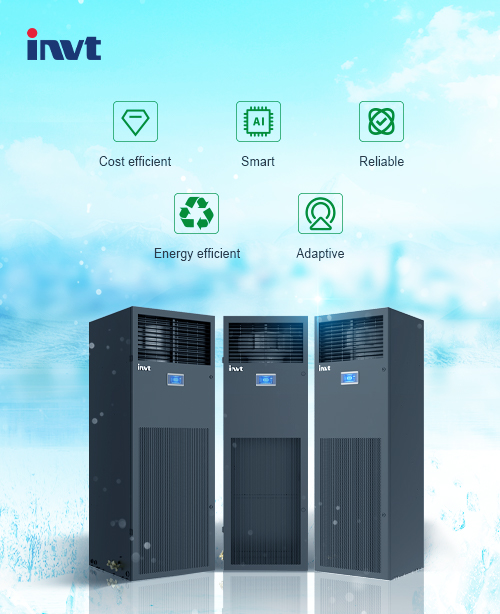 Product Highlights
1. Safe and reliable
• Use strictly certified high-quality components to improve reliability from the source;
• 365×24 hours uninterrupted operation, long life design, low maintenance cost;
• Ultra-wide power grid adaptability to avoid frequent start and stop of air conditioners;
• The standard configuration of environmentally friendly refrigerant R410A;
• Threaded quick connector design eliminates the need for fire and welding on site;
2. High efficiency and energy saving
• Large airflow, small enthalpy difference, and high sensible heat ratio design meet the temperature control needs of the computer room;
• The entire series adopts EC fans, high-efficiency DC variable frequency compressors, and electronic expansion valve configurations to dynamically output cooling capacity according to load changes;
• The outdoor fan adopts an infinite speed control method, matches the condensing pressure operation, saves energy, and reduces noise;
• Standard wet film humidifier, efficient and energy-saving;
3. Intelligent monitoring
• 4.3-inch/7-inch true color touch screen, simple and beautiful, with friendly human-machine interface;
• Comprehensively monitor the power supply of the unit, display key information such as unit cooling capacity, air volume, temperature, and humidity curves in real-time, and control the health status of the system in real-time;
• Multi-level password authorization and expert system self-diagnosis function make the system more intelligent;
• Supports a patrol network of up to 64 units, which can realize scheduled patrols, fault rotation, and other functions to prevent competitive operation, etc.;
• Supports automatic startup for incoming calls and scheduled power on and off for easy management;
• Can store more than 1,000 historical fault records for easy viewing and tracing;
4. Flexible configuration
• Standard wet film humidifier, optional electrode humidifier;
• Supports upward pipe routing/upper drainage to meet the needs of different scenarios;
• A variety of air supply methods are available, and the airflow organization is flexible and suitable for different applications;
• Optional water leakage detection rope, lightning protector, dual power input, etc.;
• Optional low-temperature outdoor unit can achieve reliable operation at -20℃~-40℃ outdoor temperature;
Selection recommendations
1. Is the air supply method optional?
According to the air supply mode, it is divided into upward air supply and downward air supply. Downward air supply is divided into two types: fan sinking and fan non-sinking. When the fan sinks, the height of the electrostatic floor must be greater than 400mm, and the height of the return air outlet from the ceiling must be greater than 500mm.
2. Is the air deflector adjustable?
The air deflector of the front air supply unit supports upper and lower air guides. To adjust the air outlet direction, turn the air deflector 180° and install it.
3. Where is the most reasonable place to place the air conditioner in the computer room?
Avoid placing the indoor unit in a narrow place, otherwise, it will block the airflow and cause a short circuit of the air outlet and return air and air noise. Avoid placing multiple indoor unit units close together to avoid airflow crossover, load imbalance, and competing operations.
4. What are the installation requirements?
The maximum allowed vertical height difference between indoor and outdoor units does not exceed 20m, the negative drop does not exceed 5m, and the horizontal connecting pipe length does not exceed 60m. If the lowest outdoor temperature is lower than -20°C, low-temperature components must be selected or a low-temperature outdoor unit must be selected directly.
End
The VCA Series Inverter Small IT Room Cooling solution is a new generation of low-carbon, energy-saving, intelligent, and worry-free energy-saving products launched to build green data centers. INVT will make continuous breakthroughs in products and technologies through continuous technological innovation to welcome the new era of data centers.